Texas Tower Replacement - Caltex
Caltex Queensland located near Brisbane Australia needed to replace a long serving Texas Tower (a large high temperature vertical heat exchanger) buried inside an existing plant. The project risks were; the need to re-design the unit to current standards while maintaining existing geometry, and changing out 'new for old' in the upcoming shutdown window. LA Services utilised FEA design methods to achieve the allowable stresses specified by the latest standards to maintain existing geometry.
Kipper Tuna Turrum Air Cooler Package - Esso Australia
Jord International were commissioned by Esso Australia to provide ten complete Air Coolers for their Kipper Tuna Turrum offshore platform project. LA Services was contracted to fabricate the Inconel 625 headers, hydro test the bundles then assembly the coolers with the free issue mechanical componentry. 
The specifications required 100% NDE on all pressure retaining welds, Factory Acceptance Test (FAT) assessing, power, noise, vibration, and air flow velocity. All 10 units were scheduled as a single shipment, transported in an overnight convey to Port Kembla south of Sydney for loading onto a booked break bulk vessel.
Amine Regenerator Column - Caltex
The project was to design and deliver a 2m diameter x 23m long x 37 tonne fully dressed regenerator column for an upcoming major shutdown at Caltex (NSW) refinery. The column was unusual in that it required a clad plate mid-section and nozzles to address the corrosive processes of the unit. To minimise site work before installation it was planned to fit all the trays before delivery, then fully insulate and fireproof the column at the painting yard prior to delivery.
Otway Expansion/LPG Underground Bullets - Origin
The Otway expansion project required the supply of two 390 cubic metre low temperate LPG underground storage vessels being 25mm thick, 4m inside diameter x 35m long x 95 tonnes. The project was schedule driven from the onset with installation planned for January when rain fall was less likely at the southern Victoria site.
With an order being place on LA Services 12 months prior, project planning and management was the priority to maintain the pre-Christmas onsite timeline.
Hebel Brick Project - CSR
CSR expanded their Autoclaved Aerated Concrete (Hebel brick) production capacity on the central coast in NSW. The project required nine autoclaves 3m in diameter x 35m long. CSR decided to source these locally to ensure the manufacturer was close by so production of these plant critical items could be developed collaboratively with CSR as the new factory was being constructed.
North Ryde PRS Upgrade - Downer for Jemena
The upgrade of the North Ryde Primary Regulating Station (PRS) was part of a natural gas network expansion across wider Sydney. Downer was contracted by Jemena to provide the civil, mechanical and project management services. LA Services was sub-contacted by Downer to manufacture, assembly and carry out electrical and instrument works for the PRS skid. The contract also required LA Services to complete the inlet and outlet pipeline tie-in with the gas network.
Download our Product Brochures
Find out more about our capabilities by browsing all our products & services brochures
LA2258 - Caltex, Column
LA2258 - Caltex, Column
LA2258 - Caltex, Column
LA2258 - Caltex, Column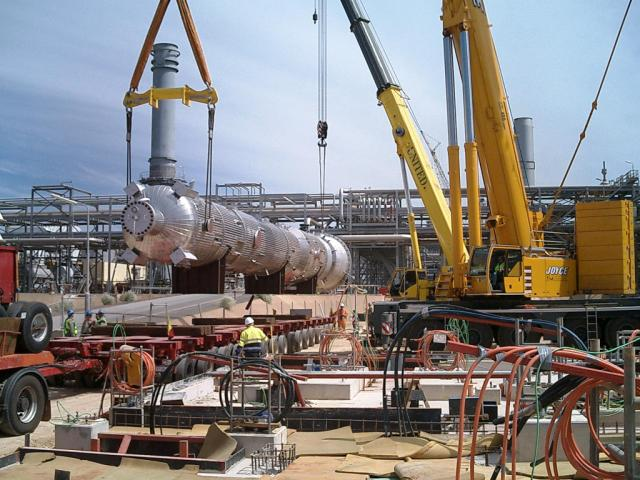 Caltex, Column - Lifting into position
LA3299 - Downer, PRS Skid
Drop us a line to discuss your product or service solution requirement